Last Updated on
The idea of ​​creating a Circuit Training, which includes loads on different muscle groups, belongs to English athletes G. Adams and R. Morgan. It was developed in the 80th years of the last century. Its main principles are performing simple and accessible exercises in a circle in several cycles. Scientists have determined that it is a specific combination of loads on different parts of the body with high intensity and a large amount of repetition, accelerates metabolism and lipolysis. Over time, Circuit Training has gained popularity and is now actively used by athletes.
Do you want to lose a couple of extra pounds while maintaining a muscle relief? In the solution of the question will help cyclic training, which includes several exercises, repeated in a circle. High intensity speeds up the splitting of fat deposits, trains the heart, increases stamina and creates relief.
Principles
Circuit trainings are suitable for activating fat burning and working out all muscles. They include 8-12 exercises, which are repeated in a circle with a short break. More approaches will increase efficiency and effectiveness.
Beginners can choose between 5-6 exercises and make a break between the circles in 2-3 minutes. As the stamina increases, the duration and extent of the load increase. Professionals, especially athletes on drying the body, should perform at least 10-12 exercises with a break of 30 seconds and do warm-up before training.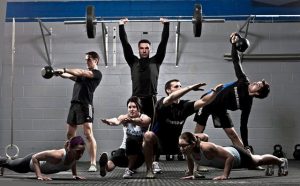 Circuit TrainingDuring the training, power or aerobic loads can be used. They are not aimed at building muscle mass, so do not use a large weight of the inventory.
Main principles: multi-repetition, regularity, intensity and minimum rest time between repetitions.
Advantages and disadvantages
This is a find for professional and novice athletes. With her help, all muscle groups are worked out in one day. You can independently choose the degree and type of load to work out those muscle tissues or problem areas that need it.
The popularity of training is determined by universality – it is suitable for athletes regardless of gender, pursued goals and level of preparedness. It can be carried out at home and often it does not require the use of special sports equipment.
High-intensity training starts metabolic processes, which not only promotes active fat burning, but also prevents the appearance of deposits in the future. Regular exercise increases muscle tone, physical and mental endurance, gives a sense of self-confidence, and also improves well-being.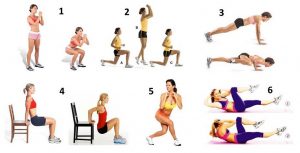 High intensity exercises favorably affect the cardiovascular system, improve its performance and significantly reduce the risk of heart disease.
Circuit Training has one significant drawback – it is not suitable for building muscle mass.
Rules
It is important to make a plan before starting the training. You can do this yourself, by studying basic basic rules and exercises, or with the help of a coach. The program should include loads on different muscles. The best option if they involve the maximum parts of the body. Typically, it's squats, push-ups, press, rope and more.
When designing a program, consider physical training and pursued goals. So, if the problem areas are the hips and buttocks, then it is worth picking up the load on them, not forgetting about the elaboration of other parts of the body.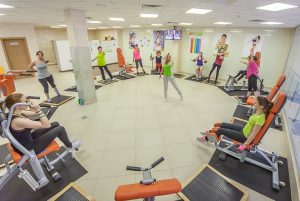 Begin with a warm-up. It will warm up the muscles and prepare the body for more intense stress. Trainers are advised to perform an easy stretch, which will improve the joints and reduce the risk of injury.
Start with easier exercises to gradually prepare the body, heart and muscles. Do the maximum number of repetitions (up to 50) to get the desired result.
Between the circles, take a short break – this will help to relax, restore breathing and normalize the pulse. Do not sit during the time-out – walk on the spot. This will avoid a sharp drop in heart rate, dizziness, or weakness.
The maximum duration of the lesson is 45 minutes. Due to the high intensity of this time it is enough to accelerate lipolysis and increase the tone. Longer training sessions can lead to loss of muscle mass. Repeat training should be 2-3 times a week.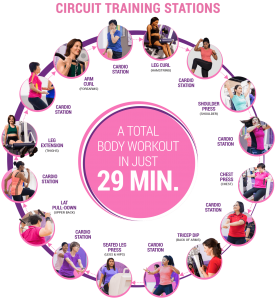 If you feel that the body has become accustomed to such stresses – increase the number of repetitions or add new activities. Rewrite the program taking into account new wishes and degree of preparedness.
To get real pleasure and maximum benefit will help cyclic training. Repeating exercises involving different muscle groups, will enhance endurance, accelerate lipolysis and help create an ideal body with a beautiful relief.